SEPTEMBER 2023- DALLAS, TEXAS-
Nikki Hunter, also known as 'Nikki' is an entrepreneur and business coach from Tyler, Texas. She now resides in Dallas, Texas. As a diverse and unique business owner, she has had consistent projects that she has led throughout the city. Nikki remains dedicated to her journey, and is constantly improving. Known as creative, hardworking, and resourceful with her work, Nikki explains the journey of her endeavors. "I am currently working on an E-Book on how to build business credit. It drops on September 15th, 2023. What is inspiring me is the vision of time and financial freedom." Nikki is a leader in her industry and constantly puts effort to display her skills. She is on the right path, and remains focused.
Nikki speaks on her motivation and what helps her get through rough times. "Some obstacles I have had to overcome to be where I am at is finding serious clients." Her goals and the reasons she pursues them set her up for success in all she sets forth doing, and her clientele is also consistent the more she stays mentally inspired. Nikki remains steadfast through it all. Despite difficulties that came throughout her life, she remains persistent in working. "I have overcome certain struggles to get where I am now by staying positive, also by changing my thinking and speaking."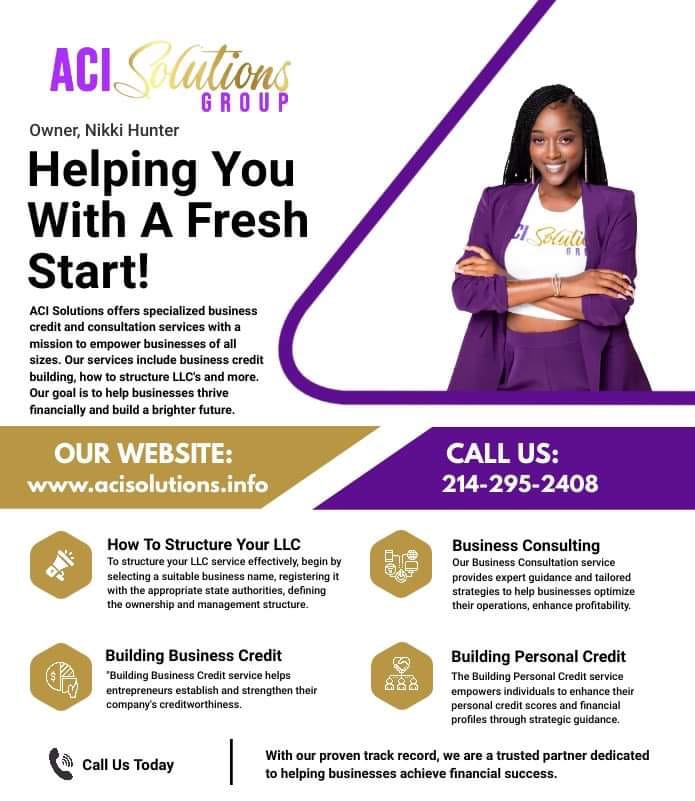 What piece of advice do you want others to take back from the work you display?
Always stay genuine.
Nikki mentions within the interview that certain individuals in her life have inspired her to be great, starting from her own family. "The most influential person in my life is my grandmother." Nikki will be successful in achieving her goal because she never gives up, and in order to keep her position at the top, she can only see success in the years to come.
Nikki is an insightful leader in her field and an accomplished expert in her lane. She is confident that her work will help her advance in her career and make a difference in the world and help others tremendously. Nikki is committed to learning from her experiences and making the most of every opportunity.
Nikki Hunter, also known as 'Nikki' will succeed because she never gives up. Only time will bring her prosperity.
Published by Public Relations Brand, #Focuseddd.